Success Story: Achraf's Award as IHK State Best in Electronics Technician Apprenticeship for Devices and Systems
Success Story: Achraf's Award as IHK State Best in Electronics Technician Apprenticeship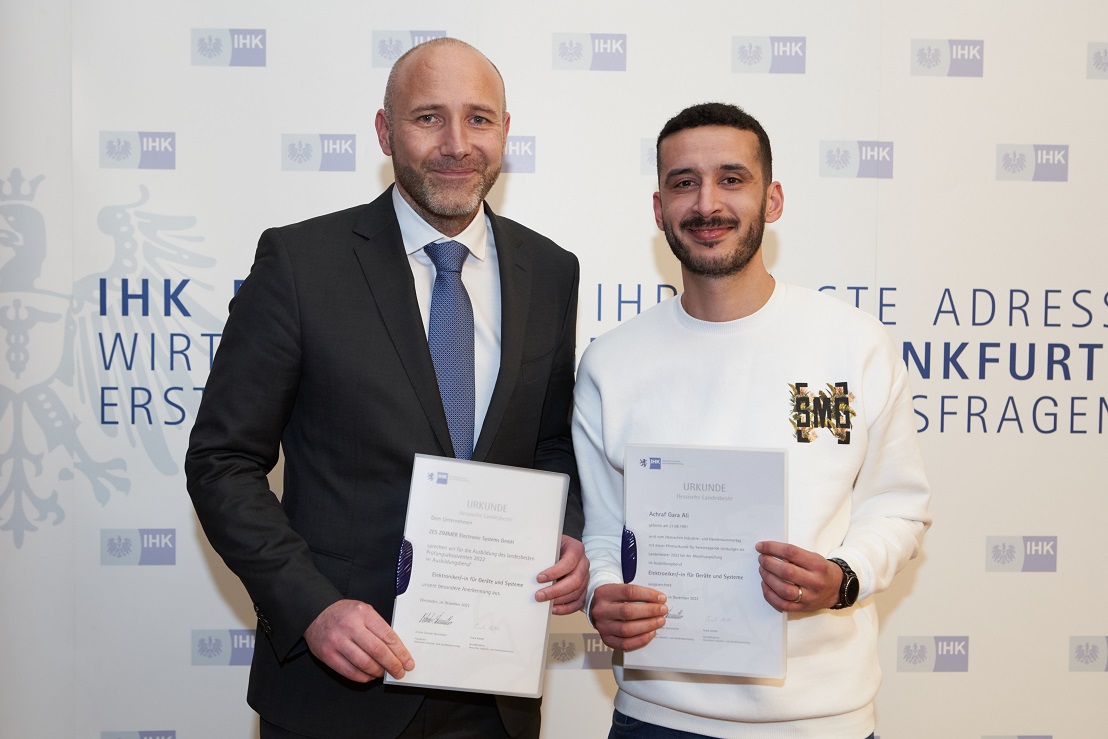 (left to right: Dr. Conrad Zimmer, Achraf Gara Ali)
Our news and posts don't always have to be about products, applications, or professional events. It is our pleasure and priority to introduce our employees and to share their achievements with you!
Our production employee, Achraf Gara Ali, graduated in 2022 and completed his apprenticeship as an Electronics Technician for Devices and Systems with excellent results. On February 13, 2023, he was recognized by the Chamber of Industry and Commerce Frankfurt am Main as the Best Apprentice (Hesse) in his field! His dedication and ambition during his apprenticeship have paid off, paving the way for his well-deserved award. We are very proud of him, congratulate him on his achievement, and want to honour him with this announcement.
As a high-tech company in the electronics industry, it is very important and significant for us to develop and support our employees as best we can. Therefore, we are always striving to continuously improve our training programs, allowing our employees to fully utilize their skills and potentials in a pleasant and appreciative work environment.
But who is Achraf and what tasks does he undertake at ZES ZIMMER? We asked him and introduce him here:
Dear Achraf, how old are you and since when have you been working at ZES ZIMMER?
I'm 31 years old and have been with the company since 2019.
How did you become aware of ZES ZIMMER back then?
When I was looking for an apprenticeship as an Electronics Technician for Devices and Systems, I came across ZES ZIMMER on the internet
What impressed you positively during your first contact?
On my first day, I had a nice reception, and everything was explained to me in detail about the various activities and tasks of the apprenticeship. I also noticed the pleasant working atmosphere.
What moved you to stay with us after your apprenticeship?
After my apprenticeship, I definitely wanted to stay with ZES ZIMMER because I enjoyed my various and interesting tasks and my colleagues were very friendly. Furthermore, the company offers training opportunities for employees for individual education.
What is your role, responsibility, and what do you take care of daily?
I am responsible for the production of the precision high-voltage dividers of the HST series, which also includes services such as maintenance, troubleshooting and repair, as well as adjustment and calibration. Furthermore, my responsibility covers the production and service processes of the entire current sensor portfolio.
Three reasons why you enjoy working at ZES ZIMMER:
I enjoy working at ZES ZIMMER because firstly, it is fun, secondly, because of the pleasant and friendly work environment, and thirdly, because of the fair opportunities for personal and professional training.
Apart from work, what interests/hobbies do you pursue in your free time?
In my free time, I like to play soccer and go swimming.
We look forward to Achraf's future achievements and thank him for his excellent performance during his apprenticeship and his outstanding performance as the Best Apprentice. We wish him continued success and fun in our team.
Do you want to actively shape efficient and sustainable energy conversion for a clean future? Then you've come to the right place with us. Over 50 employees and global representation are jointly responsible for making innovative measurement technology accessible to today's engineers worldwide for the efficient and resource-friendly development and optimization of their electronics.
Check out our job, internships, and theses advertisements and find out more about career opportunities and benefits at ZES ZIMMER.
IHK's article (German) to the honor of the best apprentices: Here